Summer '18 was chockfull of action for alQaws: celebrating the conclusion of some projects, relaunching others, and exploring new ventures. We are thrilled to share a few of these accomplishments with you!
Teacher Training in I'billin
With the start of summer, alQaws concluded a training course for teachers and educators at Mar Elias High School in the village of I'billin. The training began in March and ran for 3 months.
alQaws' teacher training program aims to expand the conversation around sexual and gender diversity in schools. It provides basic knowledge to educators and opens the space to ask questions and share the difficulties facing teachers.
(Mar Elias High School)
Topics discussed over the 10 training sessions included: sexual identity, community violence, dealing with violence at school, family, and the role of teachers, among others. About 20 teachers and educators joined the course, which required each participant to engage their students in an activity related to the topics covered in the course. Teachers chose different topics to discuss with students, including sexual identity, language and terminology, and gender roles.
This practical approach allowed educators to self-reflect on personal attitudes, and how they influence their professional duties. Teachers also explored different conversations and challenges with students in different classes.
Therapist Guidebook Discussions
Following the publishing of "Introduction to Sexual and Gender Diversity for Mental Health Professionals," it was necessary to expand the conversation around it, and to allow professionals the space to discuss its contents with a critical lens.
In July, alQaws organized 3 events in Ramallah, Jerusalem, and Shefa-'Amr to discuss the guidebook among mental health professionals. Tens of therapists, educators, and social workers attended the events.
(Discussion in Jerusalem)
In Ramallah, head of the Psychosocial Resource Center at the Palestine Red Crescent Society Fathy Flefel and counselor Fida' Elayan led the discussion. In Jerusalem, clinical psychologist and head of the Arab Psychological Association Yoad Ghanadry-Hakim opened the evening with a brief introduction. In Shefa-'Amr, developmental psychologist Hanan Khamees-Zo'abi and psychologist Tony Haddad engaged participants in a productive conversation. The last two events were organized with the Arab Psychological Association.
(Shefa-'Amr Event)
Many important topics were tackled during these discussion events, including the role of therapists and the relationship with the client. These conversations encourage us to keep creating accessible knowledge and to strengthen our relations with mental health institutions all over Palestine.
"On Violence": Third Academic School
August kicked off with the Third Academic School for Sexual and Gender Diversity, following the first and second schools held in 2014 and 2016.
This year, the School reached new heights in terms of both academia and structure. The event saw three full days of serious and deep discussions on violence and sexual/gender politics under colonialism.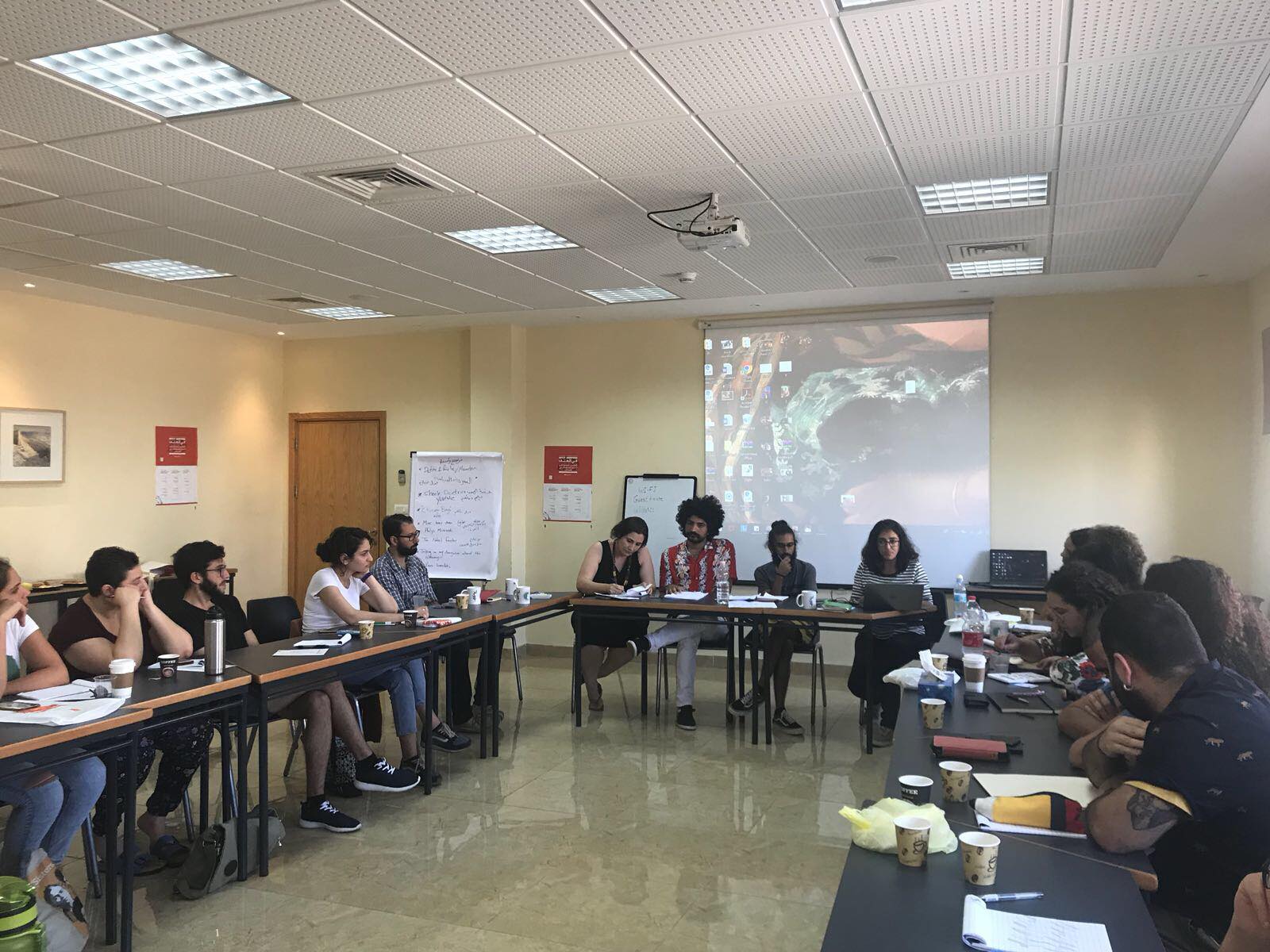 (Panel from the second day)
Speakers included researchers and academics from Palestinian universities, as well as activists involved in different social and political movements and groups in Palestine. The School was attended by 30 participants from different backgrounds, including students, designers, and social workers, among others.
As with previous academic schools, alQaws invited the public to join the conversation by submitting proposals for articles related to the School's topics. A volume of thematic articles is usually released in the year following each academic school. So, stay tuned!
"Tarwiha": Stories from School
alQaws realizes the need for teenagers and young adults to see their experiences reflected in media. We also aim to start conversations among educators around sexual and gender diversity in schools. Inspired by these goals, we are proud to release our first comic series "Tarwiha", which highlights queer experiences at school.
(Excerpt from Tarwiha)
Episodes will continue until mid-fall, tackling violence in schools, relationship with family and teachers, among other topics. The comic series has seen a massive reach, indicating the thirst to talk about these experiences, especially among teenagers.
To read the comic series in Arabic go to the website http://alqaws.org/tarwiha/
New Hotline Volunteers
alKhat – Listening & Information Hotline is one of the longest-running alQaws projects. Throughout the years, thousands of callers have reached out to talk and ask questions about sexual and gender diversity issues. Behind this massive achievement, sit a number of alKhat volunteers waiting on the line or behind their computer screen.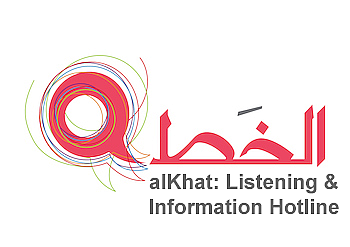 (alKhat logo)
This August, alQaws finished a new round of training for potential volunteers, who then joined the hotline service in September. They were gradually incorporated into the team under the supervision of more-seasoned volunteers, to allow for a smooth transition and an on-going learning experience that does continues after the initial training course.
Over 12 sessions, the training held in Yaffa sought to develop the participants' listening and communication skills. The course also prepared them for the process that each volunteer goes through parallel to that of the callers, as part of the peer-support system that the Hotline employs. In this approach, volunteers' personal experiences are central to the learning process inherent in the provision of this service.
"Singing Sexuality 2": alQaws Sings Again!
Four years after the launch of alQaws' first music album "Singing Sexuality", we released two new singles this summer.
"el-Ossa Hiyyi Hiyyi" (Same Old Story) by the Ramallah-based artist Yusor, and "Ma Betghayyerni" (You Won't Change Me) by Bashar Murad from Jerusalem were the first singles from the project's relaunch. More singles will be released by the end of the year. You can listen to both singles below.