We're pleased to share with you our 2017 annual report "Ten Years of alQaws: Looking Back, Pressing Ahead", which highlights the last ten years of alQaws and some major milestones along the way. Click the image below to view the full report. For the Arabic version, click here.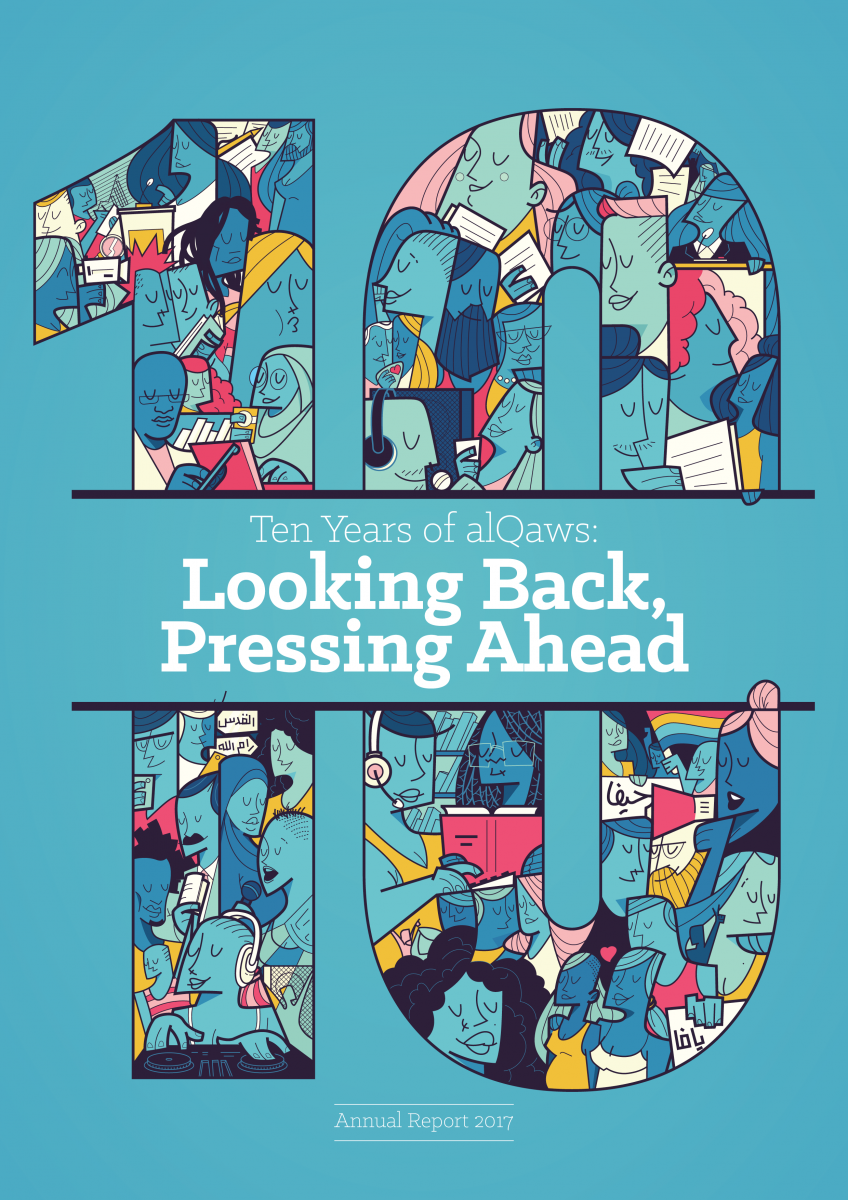 Dear Friends,
Although turmoil and uncertainty about the future encircle us yet again, the closing of one year always brings with it the potential for renewal—for spotting hope on the horizon of the new year. This year, we celebrate an important milestone not only for the queer community in Palestine, but for our whole society: 10 years since the formation of alQaws, Palestinian society's largest and most influential organization for building strong LGBT/queer communities and for bringing about a social and cultural upheaval when it comes to our society's response to gender and sexual diversity.
Since self-reflection, ongoing critical analysis, and a desire for change have always driven alQaws' work, it may come as no surprise that we take this ten-year anniversary as an opportunity not only to celebrate, but also to assess and evaluate. After all, there is no pre-determined path to creating the just society we envision—it takes hard work, perseverance despite scant resources (whether financial, emotional, or otherwise), and determined optimism. This year's annual report thus does more than look back on the previous year; it overviews the highlights and major achievements from 10 years of activities and growth, recognizing how far we've come and implicitly projecting how far we should aim for the next ten years. At our annual leadership retreat in early December, we took the opportunity to ask individual activists to reflect on what alQaws means to them—these testimonials appear throughout the report as well, since alQaws' activists' experiences, needs, desires, and capacities are the driving force of our work.
If you've been following alQaws for the past ten years, or only for the last year, or even if this is your first introduction (welcome!), we invite you to voice your support for this movement toward a Palestinian society that embraces all forms of diversity. The most impactful way to do so is by donating to us (at www.alQaws.org), particularly since many foundations and donors have tired of the seemingly intractable political situation we have no choice but to continually find ways to work within. More than ever, we need a strong base of donors who can stand with us, hopeful and inspired by what is possible in the years to come.
Whether you are a long-time follower or supporter of alQaws, or you're learning about us for the first time, we enthusiastically share with you our story of the last ten years, as well as our hopes and desire for the next ten.
Kindest regards,
alQaws Activists, Board, Staff
Learn about alQaws' major milestones. Click the image below for a full size view.