Since COVID-19 arrived on Palestinian shores, we felt a great responsibility to take precautionary measures with regards to some of our planned programs, and built a flexible plan to respond to the growing and changing new needs faced by our communities due to the pandemic. While the pandemic shifted everything, our core mission and the need for our work didn't change. We focused on keeping our communities connected to each other as well as we can, we responded to emerging needs, and were flexible in our approach to continuing our existing work and following new opportunities.
By mid-March, all of our activities and meetings were moved to online spaces and our staff and activists transitioned to working from home. Two of our scheduled initiatives and programs were postponed until further notice: alQaws' first Queer Party for 2020, and a training program about Queer Activism which was scheduled to take place in Ramallah.
While we had to shift some of our plans, we continued working on several culture and knowledge production initiatives, such as a field research about Palestinian familial dynamic towards sexual and gender diversity issues; an internal professional training for our peer-support volunteers; and a third season of Tarwiha, a Comic Series that centers the experiences of LGBT/queer teens and youth which was due to launch during this period but was postponed due to the current crisis.
Being a grassroots organization means we had to adapt our community organizing to the newly emerging challenges and needs. We made dozens of phone calls to remain in contact with alQaws' activists and national/local leadership groups, and we organized regular community online meetings with LGBT/queers & communities across Palestine. We embraced the new opportunities that came out of the situation and confronted the challenges that were imposed upon us, all while remaining present, relevant, and accessible. During these times we have accomplished the following:
Regional Webinar
Transitioning our work and activities online, despite all the limitations that entails, has granted us the opportunity to connect with communities and individuals who live in geographically remote and distant locations and cannot usually access our activities.
Going virtual has also provided us the opportunity to expand our work beyond Palestine and engage in regional collaboration. With four Arab organizations working in the fields of gender and sexual diversity and sexuality, we organized a webinar titled "COVID-19: Political & Professional Challenges Through The Lens of Feminist-Queer Organizing".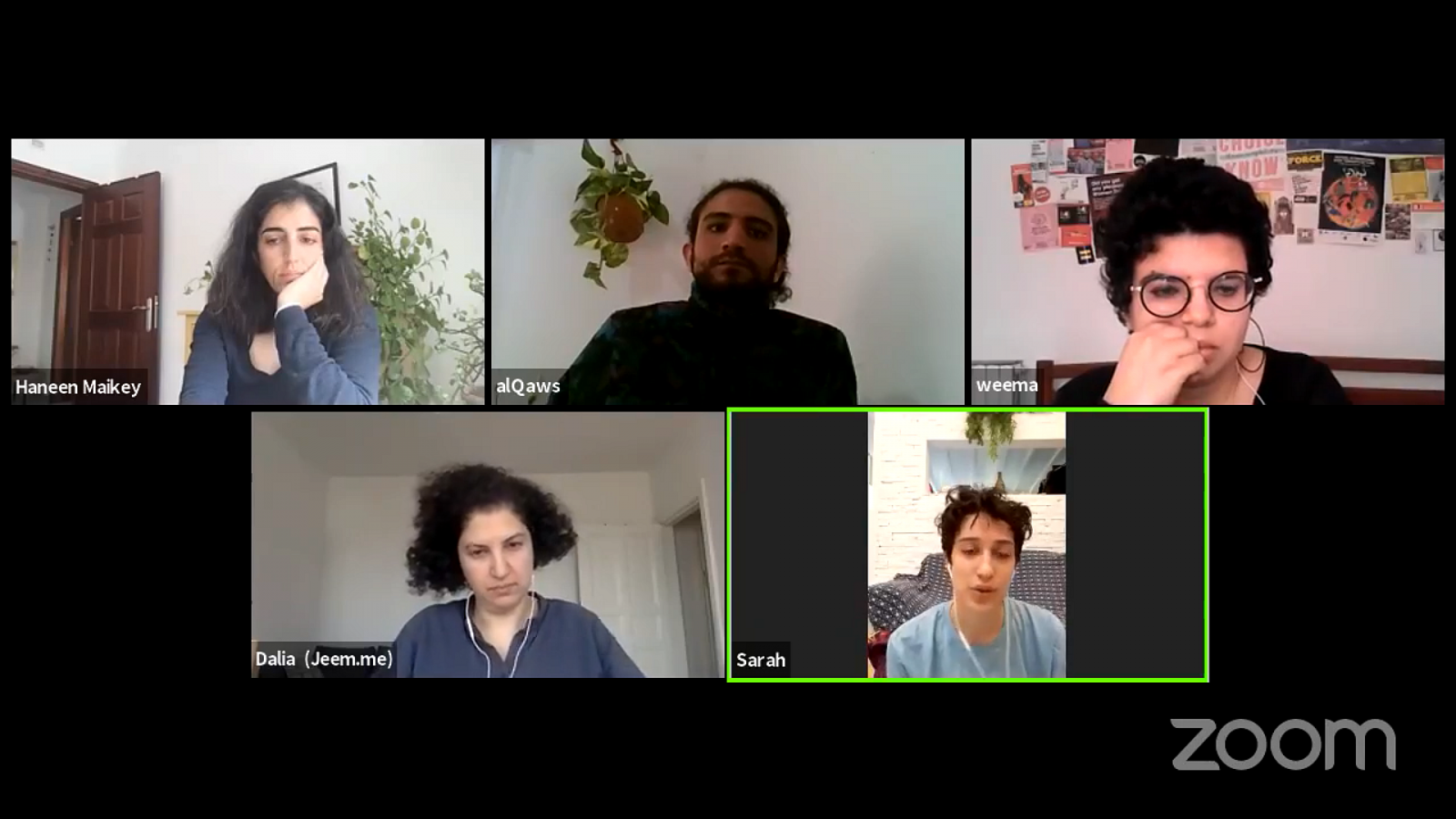 Screenshot from the Webinar
Sarah Kaddoura from The A Project in Lebanon opened the meeting, discussing the political situation in Lebanon under the pandemic, and how it intersects with sexuality-related issues. Dalia Othman from Jeem.me proceeded to speak about the influence of the pandemic on the production of knowledge about gender and sexuality. And Weema from Mawjoudin We Exist in Tunisia talked about the impact of the pandemic on marginalized groups in Tunisia like sex workers, asylum seekers, and LGBT/queer groups. Lastly, Haneen Maikey from alQaws shared the challenges we face - as well as the new opportunities - working with and reaching out to local and grassroots communities across Palestine.
The webinar was attended by over one-hundred listeners and viewers, who participated in the open discussion through Q&As. Participants continued to post questions and interact after the webinar, and many people watched the recording after it was posted on our Facebook page. Clearly, our communities and audiences needed and craved such activities.
Since regional LGBT/queer Arab grassroots community organizing has long been a desire and a priority for us, we see this webinar as a fruitful first step toward further collaboration. Somehow, this crisis allowed us to overcome the usual political and logistical barriers to movement building across borders.
Online Workshops: Our Familial Relationships In This Time Of Crisis
The new reality created by the pandemic and social distancing recentered our relationships with families. As LGBT/queer people, family relationships can already be complex and tenuous. Under a pandemic, these dynamics are put under additional strain.
To respond to this need, alQaws organized two online workshops on family relationships under isolation with more than 20 participants from across Palestine. Participants shared their experience in dealing with different forms of violence, including restrictions on privacy, as well as new opportunities in confronting old dynamics and building new alliances inside our families.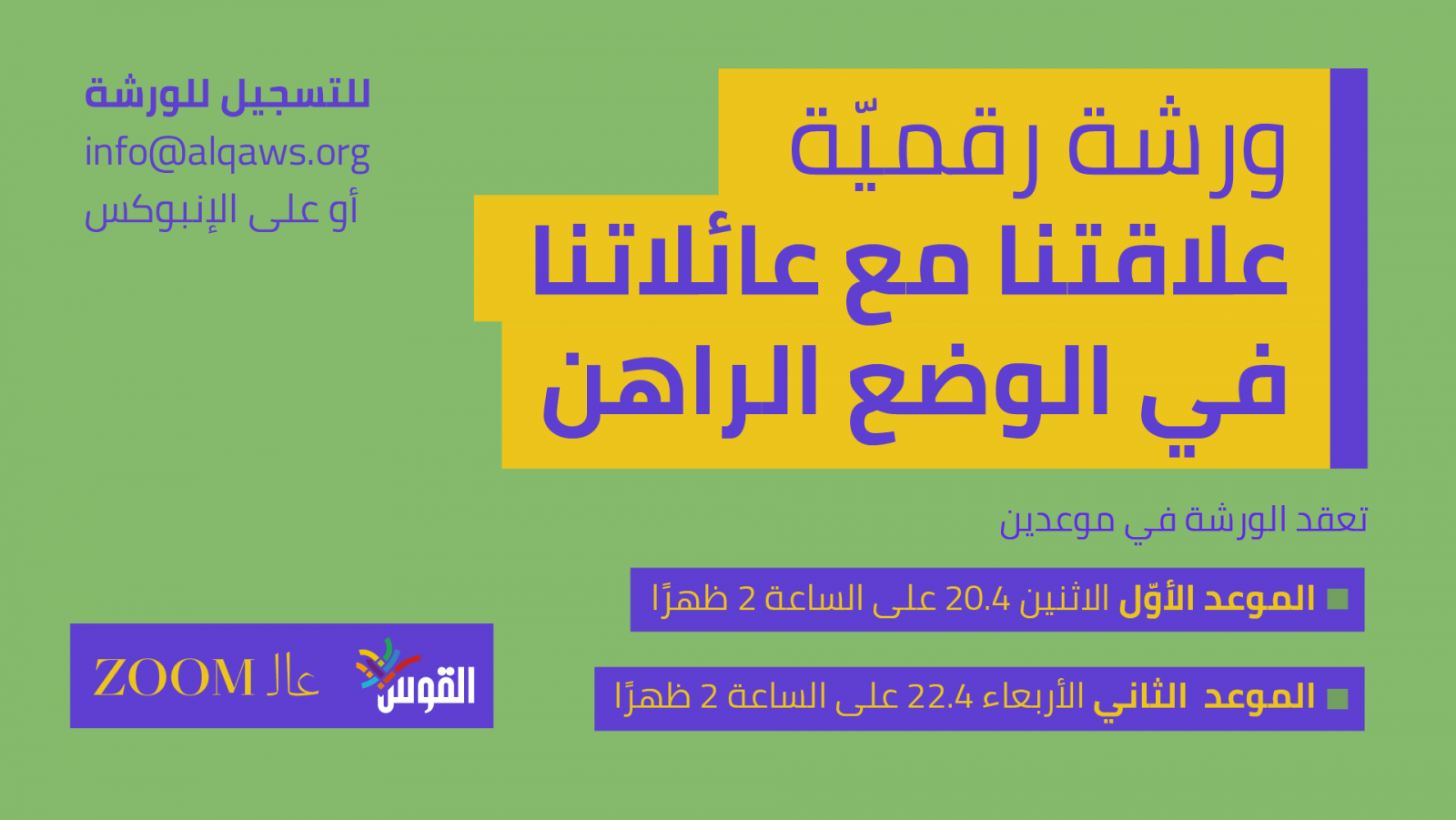 Online Workshop Poster
As with our regional webinar, we connected with audiences that have never before been able to participate in alQaws's [offline] workshops and initiatives, including women with mobility restrictions, people who face challenges going out after certain hours, and others who cannot join our activities due to colonial borders and other geographical constraints, such as Palestinians living in Gaza or in the diaspora.
Pandemic 101: Queer Concerns in time of Isolation
For many people, this time is filled with mixed emotions and concerns regarding the pandemic, our health and that of our loved ones, and the uncertainty of the long-term social and economical consequences. For LGBT/queer people, social distancing can inflate emotions that are specific to our queer experiences, such as feelings of isolation, fears of gender violence, and a lack of privacy.
Early on, when there was a lot of misinformation and not enough accurate, relevant public health info being published in Arabic, we launched a series of posts that address these emotions and concerns. These posts aim to sustain our connections with the communities we work with, and to respond to new needs arising under the pandemic, like mental and physical health, and safety and security. The following posts were published in Arabic during March-April 2020:
Stay Home, Queer Reading
For those who find staying indoors could be a good opportunity to slow down, learn new things, and indulge in activities and readings, we've offered various reading lists to deepen our knowledge of sexual and gender diversity issues. These included lists about queer theory and politics, articles about pinkwashing, and some new and old readings around sexulity and the Arabic language.
Working Before Coronavirus
Before the major shift in our lives marked by the global outbreak of the pandemic, we accomplished some of our cyclical projects and initiatives during the first quarter of this year. The most important one is our work with alQaws activists, and local and national leadership.
In April we finalized and completed our second youth group for 2020 "Me, My Sexuality, and Society: Knowledge and Impact", which took place this time in Haifa over 12 weeks. Despite the changes that occurred mid-way through the group's set of meetings, we pressed on to complete the process by moving our meetings online. We also completed the first stage of our activists training program series about basic concepts of sexual and gender diversity, queer activism in Jerusalem, as well as the second stage of the same series in Jaffa, which focused on feminist and queer movements and theories.
On a broader social level, we completed two series of educational training for two civil society organizations. The first was for Assiwar - the Feminist Arab Movement in Haifa, where we trained a group of women with visual impairments; and the second was a youth leadership program for the Nazareth-based organization Al-Tufula. The two trainings focused on basic concepts of sexual and gender diversity issues.
We didn't stop there. We also launched a new project, "Our Very Own Queer Life", which our activists from various local leaderships initiated and have eagerly worked on for months. It was published as an Instagram Story on alQaws' account, due to the platform's high interactivity and optional anonymity. It facilitated a new space for discussion and sharing experiences that are inspired from our queer experiences and their different manifestations. The first edition of "Our Very Own Queer Life" revolved around queer relationships, and was able to attract more than 1,000 people who followed and enthusiastically interacted with the project over a weekend.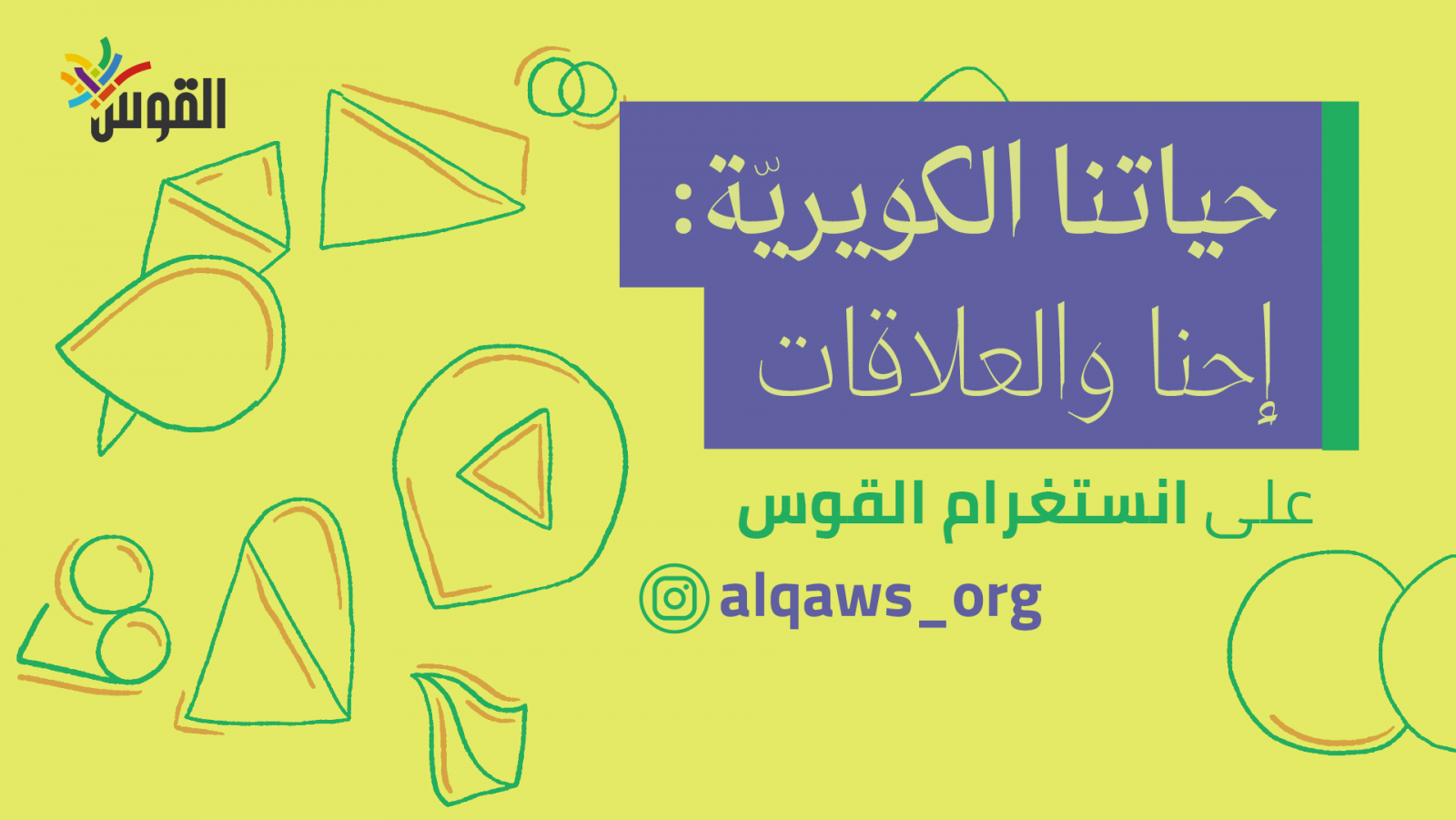 "Our Very Own Queer Life" Poster
You can view Our Very Own Queer Life through our Instagram highlight here.
alQaws in the Media
"Minkom O Feekom": Together Towards a Queer Heritage
alQaws's latest musical project "Minkom O Feekom" was featured in MyKali Magazine, a conceptual webzine that tackles the social issues of marginalized communities and alternative artistic cultural scenes in South-West Asia and North Africa. The article was a review of the project written by Mousa Saleh, who also participated as a panel member in the Hawamesh Meeting (of the same topic) we organized in partnership with The Arab Culture Association in February (Haifa).
The review focuses on "How music as one of the most important cultural heritage contributed to the shaping and forming of our thoughts and set of beliefs about love and romance, especially when it comes down to our bodies and social 'roles'. From this standpoint alQaws's new artistic project "Minkom O Feekom" - the 3rd edition of 'Singing Sexuality' project - could offer an experimental space to explore how music and cultural heritage could express also queer & non-normative experiences."
alQaws! On THE QUEER ARABS PODCAST
THE QUEER ARABS PODCAST, which is a platform focusing on queer experiences from the region and the diaspora, hosted alQaws's activists in two different episodes, one in English and the other in Arabic. The English episode addressed pinkwashing and alQaws's framing of it as violent colonial tactic, and the necessary adequate changes we need to implement when discussing sexual and gender diversity issues in a colonial context. The Arabic episode discussed alQaws' strategies in creating and leading social and cultural change in Palestinian society, in light (and in spite) of the organization's prosecution and pursuit and the colonial reality of Palestine.
You can listen to the Arabic episode here, and the English one here.